Super easy, and crazy delicious, these drop biscuits are a new favorite in my house.
Why pumpkin biscuits? Well, after making some fluffy pumpkin pancakes, I found myself with leftover pumpkin purée and buttermilk. I started thinking about what I could do with them, when it hit me: Pumpkin Biscuits!
Regular buttermilk drop biscuits are usually brushed with butter after baking, so I thought "What can I do to improve that?", and BAM: Maple Butter! (And yes, I do get that excited when I get new ideas. It's also not unusual for me to raise both of my arms in victory of my new idea. Don't judge me.)
I know some nay-sayers might think "Aren't there already too many pumpkin flavored foods?". No, what is this crazy talk? "Do our biscuits really need to be pumpkin, too?". Yes, yes they do.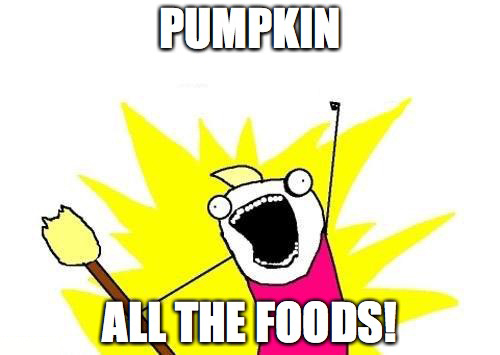 Seriously though, the pumpkin flavor and spices are present, but not overpowering. I also use the same amount of sugar as regular biscuits, so they are not sweet. The Maple Butter Glaze adds some sweetness, but not so much as to take it from a savory food to a dessert.
This biscuit pairs well with a variety of savory meals: eggs, soups, stews, turkey & cranberries. I had them with a Moroccan vegetable stew, and it was fantastic.
I highly recommend using an ice cream scoop to portion the dough. It makes the job easier and faster. My scoop, which is pictured below, is a size #20 ice cream scoop, is 2 ⅛″ in diameter, and will scoop about 2.5 tablespoons of dough. Don't have a scoop? Then you can use a tablespoon to drop 2″ balls onto the baking sheet, or get yourself the OXO Good Grips Large Cookie Scoop
.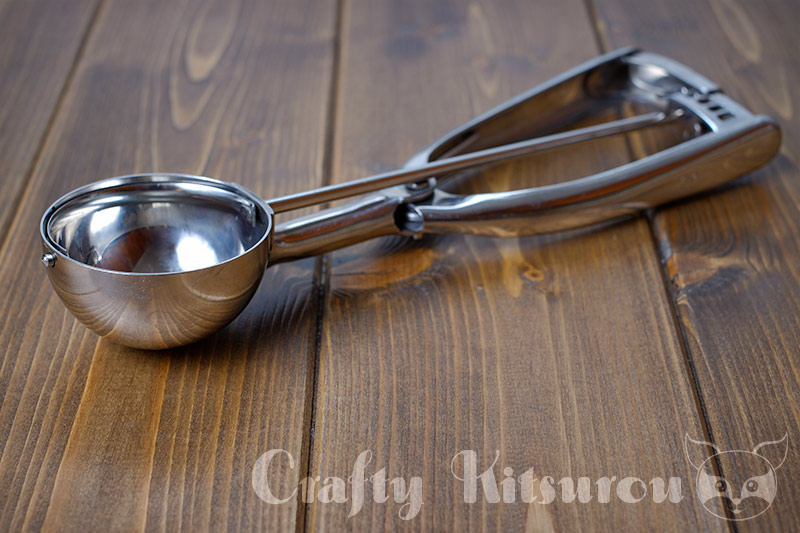 Recipe
Pumpkin Biscuits

with Maple Butter Glaze
Ingredients
Wet Ingredients
1 stick (8 tablespoons) unsalted butter melted, plus 1 tablespoon for Maple Butter Glaze
1 cup buttermilk
1/2 teaspoon vanilla extract
1 cup canned pumpkin (not pumpkin pie mix)
Dry Ingredients
2 cups all-purpose flour
1 teaspoon dark brown sugar
3/4 teaspoon salt
2 teaspoons baking powder
1/2 teaspoon baking soda
1 1/2 teaspoons ground cinnamon
1/2 teaspoon ground nutmeg
1/2 teaspoon ground ginger
1/8 teaspoon ground cloves
pinch of ground allspice*
pinch of ground star anise*
Other
Maple Butter Glaze
1 tablespoon unsalted butter melted
1 tablespoon 100% pure maple syrup
*If you do not have allspice or star anise, you can omit them without disastrous results.


Directions
Adjust oven rack to middle position, and heat oven to 475˚F. Line 1 large baking sheet with parchment paper.
Melt 1 stick of butter in microwave and set it aside to allow it to cool slightly. You want it melted, but not hot when you mix it in.
In a medium size bowl, whisk together everything listed under Dry Ingredients (flour, brown sugar, salt, baking powder, baking soda, cinnamon, nutmeg, ginger, cloves, allspice, and star anise). Set bowl aside.
In another medium bowl, mix together the buttermilk and vanilla extract. Then add melted, but cooled, butter, and stir. The butter will form small clumps, this is what you want. Add pumpkin and stir until combined.
Pour the wet ingredients into the dry ingredients bowl and stir until just combined. Be careful not to over mix.
Spray your ice cream scoop (or spoon) with cooking spray. Scoop 2″ balls of dough onto baking sheet leaving at least 1 1/2″ of space between each biscuit.
Bake for 16-18 minutes. The tops will be slightly browned.
While biscuits are baking, make Maple Butter glaze. Melt 1 tablespoon of butter in the microwave. Add 1 tablespoon of maple syrup to melted butter, and whisk with a fork.
When biscuits are done, remove from oven, brush tops with Maple Butter Glaze. Transfer biscuits off of baking sheet and onto a wire rack. Allow to cool for 5 minutes.