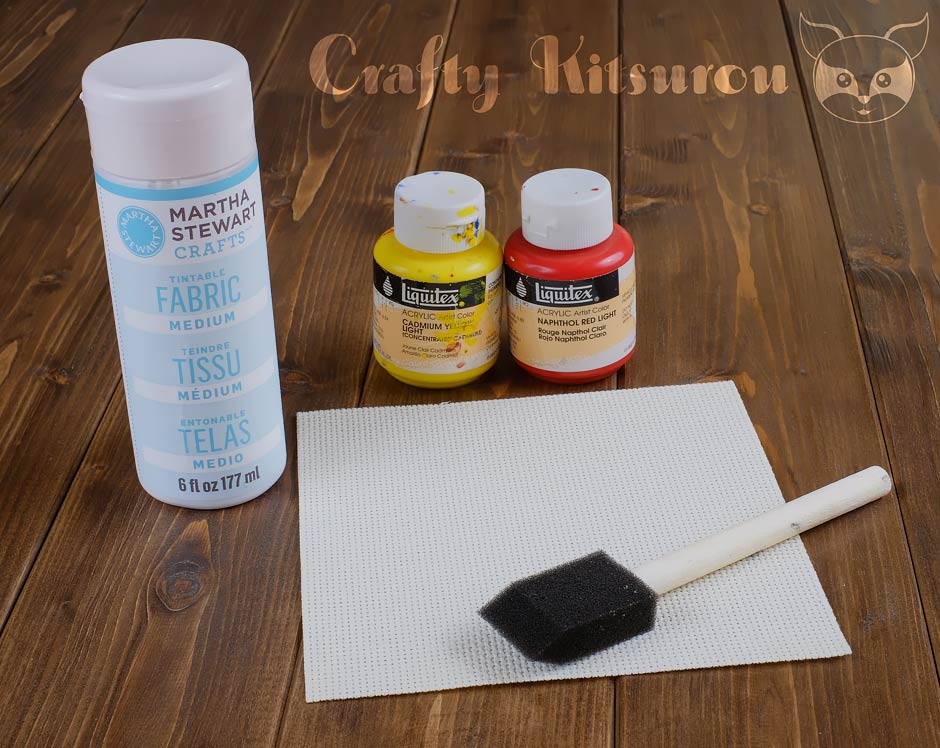 Aida cloth comes in a few different colors, but not always in the color you need. When you cannot purchase the cloth in the color you want, you can paint it! I prefer painting to dyeing because it is quicker and easier to get a nice uniform color. These instructions will work on any type of cotton fabric, not just Aida cloth. Now you can have whatever color you wish for your next cross stitch or embroidery project. Paint the rainbow! No wait, taste the paint!1 Hmm, that's not right, either… anyway, here are the instructions. Enjoy!
Supplies Needed:
Aida cloth in white
Tintable Fabric Medium (I used Martha Stewart Crafts Tintable Fabric Medium)
Acrylic craft or artist paint
Container to mix paint in
Foam brush
Disposable palette paper or waxed paper
Clothes Iron
Notes:
If there is the slightest possibility that you will be washing your project, prewash the cloth before painting it. This is to remove any sizing that might be on the cloth and will ensure the best paint adhesion. Did I prewash? Nope. Why not? Because I'm a rebel and I'll never ever be any good. Actually, I just didn't feel like it. When I make small projects, I don't wash my finished project (gasp!), so I don't prewash the cloth. I do not use hoops and like the fabric to remain stiff while I work; prewashing the cloth makes it softer. The tintable medium says to prewash, so prewashing should give you the best results. I have tested a small piece of painted cloth by hand washing it afterwards, and none of the paint came off. However, differences in cloth, sizing, and paint, may affect paint adhesion. So, I cannot guarantee that some of your paint won't come off if you do not prewash. You have been warned!
Different brands of tintable fabric medium may have different instructions. Follow instructions on bottle for best results.
Using white Aida cloth ensures that the color of the cloth won't alter or show through the color of the paint. Using Antique White, Ecru, Natural, or Ivory, should be fine under dark warm colors. So if you already have one of those colors, you don't need to run out and buy white. However, if you are buying new cloth for your project, get white.
Step 1: Prewash Aida cloth and let dry.
Unless you're me, and you totally skip this step. You can't tell me what to do, you're not my mom!
Step 2: Mix paint and tintable fabric medium.
Mix 1 part tintable fabric medium to 2 parts acrylic paint. (If you are using a different brand of medium, mix according to the bottle). My cloth was approximately 5.5" square, and I used around 1 tablespoon of paint mixture. So that means 1/3 Tbsp of medium and 2/3 Tbsp of paint. Full disclosure: I did not measure, I just eyeballed it. This is just an approximation of how much to use, different paints will require different amounts. This is because some paints are more opaque than others, so you may need more. It is always better to make more than risk running out mid project.
I wanted orange cloth for a Halloween project, so I mixed red and yellow paint. Why mix instead of buying orange paint? Because I already owned red and yellow paint. No need to waste money. I used Liquitex Acrylic Artist color. You do not need to use artist quality paints, I happened to have paint left over from one of my college art class. In fact, I've had this paint so long, they don't even make this exact paint anymore. Less expensive craft paint will work just fine. Look for paints that say "Multi-Surface Acrylic Craft Paint" which, at time of posting, should cost around $2 for 2 oz.
Step 3: Place palette paper or waxed paper under Aida Cloth.
As you can see in the photo above, the paint will bleed through your cloth onto whatever surface you are working on. I used disposable palette paper because (say it with me now) I already had it. I highly recommend them if you do a lot of painting. They are great for mixing paint on and for placing small projects on. I would not get one just for this project, though. Waxed paper works just fine and is much cheaper. Use what you have. You just need something that the paint won't stick to. If you paint on top of regular paper, the paper will stick to the back of your cloth.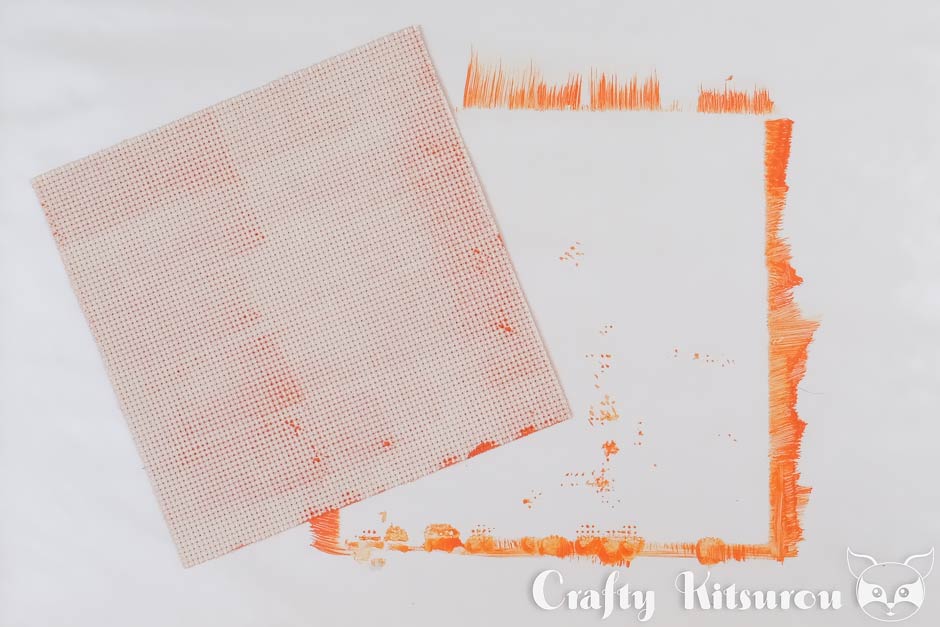 Step 4: Paint Aida Cloth.
Apply paint with a foam brush horizontally and vertically. I paint all in one direction and then immediately in the other direction. Painting horizontally and vertically will ensure that you fully coat the cloth. I only needed one coat of paint in each direction. Keep painting until you can't see white and the color is nice and even. Don't worry if the paint clogs the holes, they should open back up as the paint dries. If some of the holes remain painted after it dries, your needle will go right through without a problem.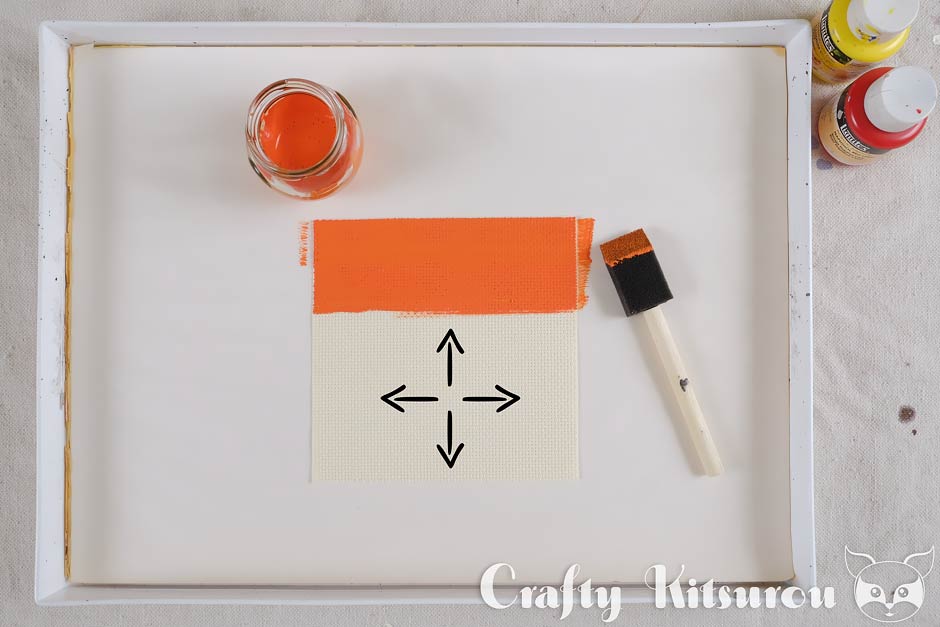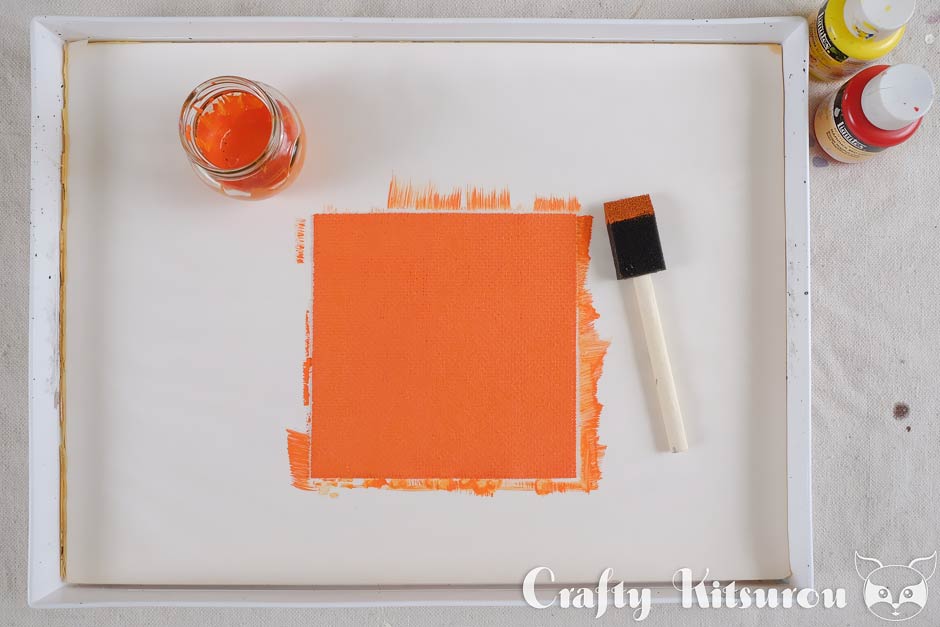 Step 5: Allow to dry for 24 hours.
Step 6: Iron cloth to heat-set paint.
You need to heat-set the paint into the cloth in order to make it permanent. I used a clothes iron on the cotton setting with no steam. Make sure you keep the iron moving the whole time, ironing both sides. I did iron through a scrap of white jersey just to be on the safe side. None of the paint got on the scrap, but seeing that I was using my regular clothes iron, I did not want to take any chances. You will notice a faint plastic smell coming from the paint, this is normal.
That's it! Now you're ready to sew onto your cloth.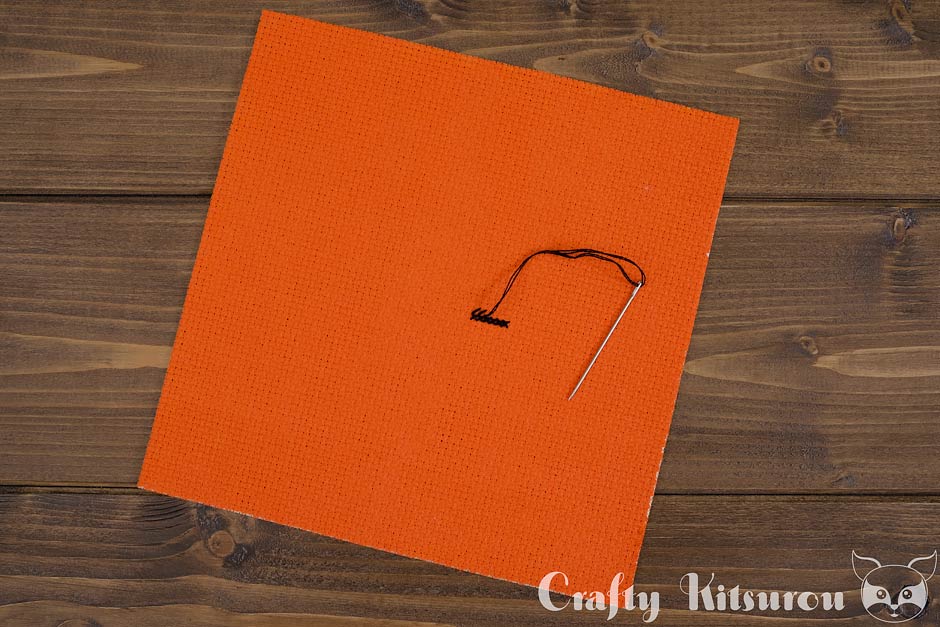 Here is a cheat sheet of the steps for easy reference:
Prewash Aida cloth and let dry.
Mix paint and tintable fabric medium.
Place palette paper or waxed paper under Aida Cloth.
Paint Aida cloth.
Allow to dry for 24 hours.
Iron cloth to heat-set paint.
1 Do not eat paint.
If you have any questions about this tutorial, please submit your question in the comment section at the end of this tutorial or email me at help@craftykitsurou.com