Forget everything you think you know about fruitcake, because these cookies are a game changer.
I used to think fruitcake was something people would give out at Christmas, but nobody actually ate. Like it was for decoration only, and gets passed around over the years. But I was wrong, oh so very wrong.
Done right, fruitcake is actually quite good. How is it done right? By using good ingredients, lots of booze, and letting it age a week or two while dousing it in more booze. So I thought, why should cakes have all the fun, why not cookies? I like cookies because they are small, travel well, and are convenient for sharing.
The Fruit
Do not buy a tub of fruit labeled "Fruit Cake Mix". Have you seen these things? They look like a tub of cubed shaped gummy candies. Dried fruit should not come in neon colors. Seriously, have you ever seen a cherry in electric Kermit growing on a tree? I don't think so.
Instead, pick out 4-5 types of dried fruits of your choice. I like to use apples, cherries, strawberries, cranberries, and pineapple. You can also try raisins, currants, blueberries, cherries, and cranberries.
I don't measure the quantity of the individual fruits. I just chop any fruit that is too large, you want the fruit pieces to be approximately the size of dried cranberries, and throw all the fruit into one measuring cup until I have 3 cups. My ratio is heavy on the apples and light on the pineapples. This is because the apples are the least sweet, and the pineapples are the sweetest of the fruits I use. Too much pineapple makes the cookies too sweet for me. This is a personal preference.
The Booze
I like to use black spiced rum because the flavor is stronger than other types of rum. I use The Kraken Black Spiced Rum, which has a nice vanilla note to it. If you do not use a black spiced rum, you may want to add up to 1 teaspoon of vanilla extract to the rum.
You will be soaking the fruit in rum overnight. Don't have that kind of time? You can microwave your boozy fruit mixture for 5 minutes instead.
After the cookies are done, you will be spraying them with brandy. I use E&J VS Brandy, and a spray bottle I picked up for a couple bucks at the grocery store. This is my spray bottle: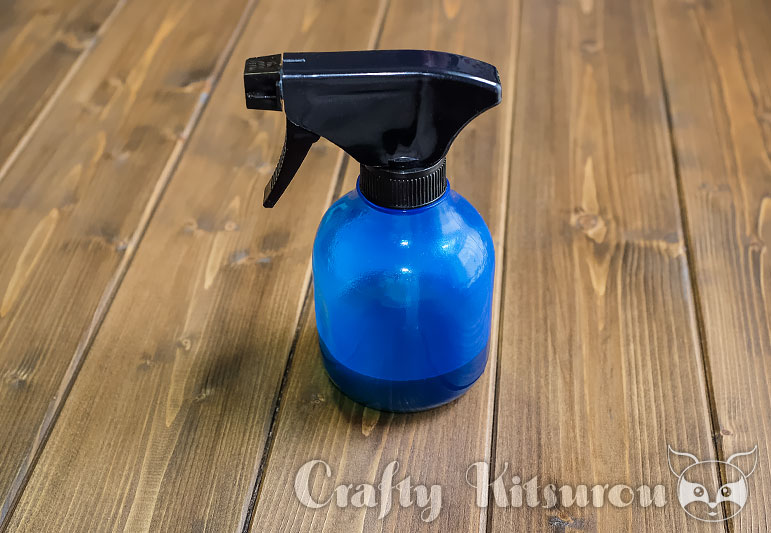 Spray the cookies every 2-3 days, or whenever they look a little dry. Or if you're my husband, just spray the brandy directly into your mouth. Yup, he actually does that. I'm a lucky lady.
The Flour
This recipe uses cake flour. Can't I just use all-purpose flour? Sorry, no, doesn't work. Believe me, I tried. Because of all the liquid from the the fruit mixture, the cookies kept spreading too much on me. Once I got the cookies to not spread too much, then the cookies would start sticking together after a day or two. I mean REALLY stick together, I gave up trying to separate them and just cut through the stack of cookies like slicing a piece of cake. Tasty, but ridiculous. If I added enough all-purpose flour to prevent this, then there wasn't enough fruit and nuts in each cookie. These cookies are supposed to be bursting with fruit and nuts! I also tried changing the ratio of white to brown sugar, and chilling the dough. Still wasn't working.
The solution: switching to cake flour, and using baking powder instead of baking soda. Now the cookies have the correct fruit & nut ratio, are the right texture, and don't stick together.
The Spices
Whenever possible, I like to use whole spices for a stronger flavor (except for cinnamon, you're better off just buying quality ground cinnamon). I always grate my nutmeg with a Microplane grater right before use. I have a small coffee grinder that I use for the cloves, and allspice. However, if you don't have a grater or grinder, using pre-ground spices will work just fine. If you want to get a grater or grinder, try the Microplane Classic Spice Grater and the Golden Bell Spice Grinder.
The Scoop
I highly recommend using an ice cream scoop (sometimes called a disher) to portion the dough. It makes the job easier and faster. The scoop I used, which is pictured below, is a #40 ice cream scoop, is 1 ¾″ in diameter, and will scoop about 1.5 tablespoons of dough. Don't have a scoop? Then you can roll 1 ½″ balls with your hands, or get yourself the OXO Medium Cookie Scoop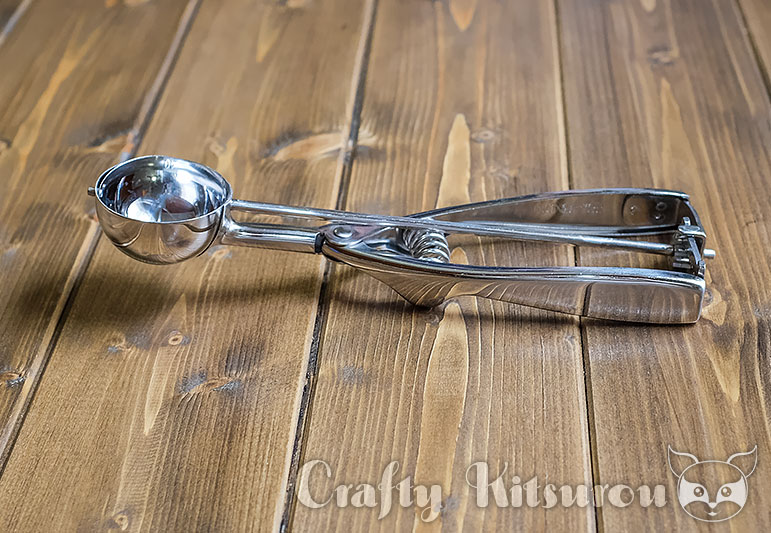 Recipe
Fruitcake Cookies
Makes approx. 38 cookies
Ingredients
Fruit
3 cups dried fruit of your choice, chopped coarsely (Use 4-5 different kinds of fruit. I use apples, cherries, strawberries, cranberries, & pineapple.)

2 tablespoons candied ginger, minced

2 teaspoons lemon zest, chopped coarsely

2 teaspoons orange zest, chopped coarsely

3/4 cup black spiced rum
Cider/Spices
1/3 cup apple cider or unfiltered apple juice

1 1/4 teaspoons ground cinnamon

1/2 teaspoon ground or grated nutmeg

3/4 teaspoon ground ginger

4 whole cloves, ground*

6 allspice berries, ground*
Nuts
1 cup pecans, toasted and chopped coarsely
Dry Ingredients
1 2/3 cups unbleached cake flour

1 teaspoon salt

1 teaspoon baking powder
Butter/Sugar/Egg
1 stick (8 tablespoons) unsalted butter, softened but cooler than room temperature

1/2 cup dark brown sugar, packed

1/4 cup sugar

1 egg
Other
*If you are using pre-ground cloves and allspice, use ¼ teaspoon of each.
Directions
Day 1
Coarsely chop any of the dried fruit that is too large. You want the fruit pieces to be approximately the size of dried cranberries.

In an airtight container, combine all ingredients listed under Fruit (dried fruit, candied ginger, lemon zest, orange zest, and rum). Allow fruit to macerate (soak) overnight, or

microwave the fruit mixture for 5 minutes instead.
Day 2
In a nonreactive pot, add the container of Fruit (dried fruit, candied ginger, lemon zest, orange zest, rum), and everything listed under Cider/Rum (apple cider, cinnamon, nutmeg. ginger, cloves, allspice). While stirring frequently, heat on high until liquid begins to boil. Reduce heat to low, continue to stir frequently, and simmer for 5 minutes. Remove from heat and allow to cool to room temperature before proceeding to next step. You can place the fruit mixture in an airtight container and refrigerate up to 2 days before finishing cookies.

Adjust oven racks to middle position, and heat oven to 325˚. Line 2 large cookie sheets with parchment paper.

Take butter out of fridge and leave it out on counter to soften slightly.

Measure 1 cup of pecans, then toast pecans and coarsely chop. Set nuts aside for later.

In a medium bowl, whisk together everything listed under Dry Ingredients (cake flour, salt, baking powder). Set bowl aside.

In a standing mixer, beat the butter on medium-high speed for 30 seconds or until smooth. With mixer running on medium, slowly add sugars until fully combined. Beat until no lumps remain. Scrape sides of bowl with a rubber spatula as needed.

Decrease mixer speed to low, and add the egg. Mix until combined, do not over mix.

Remove bowl from standing mixer. Add fruit mixture and stir until combined.

Note: If the fruit mixture isn't allowed to cool to room temperature, it will melt the butter and cause the cookies to spread too much when baked.

Add the pecans, and the Dry Ingredients mixture. Using a wooden spoon, stir until combined. The batter will be stiff.

Portion dough onto baking sheet either by using #40 ice cream scoop, or rolling into 1 ½″ balls with hands. Place cookies 1 ½″ apart. Press dough with hands so it is about ¾″ high. Cookies will not really change shape when baked.

Place both cookie sheets in oven. Total baking time will be 25-30 minutes. Halfway through baking, switch the cookies sheets between upper & lower middle oven racks and rotate 180˚. Take the cookies out of the oven before they look fully done, they will continue to cook outside of the oven. The edges will be set, and so will the bottom of the cookie.

Place cookie sheets on wire cooling racks for 5 minutes. After 5 minutes, transfer cookies off of cookie sheets and onto cooling racks. Allow to cool to room temperature.

Fill a spray bottle with brandy, and spray cookies with brandy. Store cookies in an airtight container and spray with brandy every 2-3 days. I continue to do this until all the cookies have been eaten.
These cookies are great the day they are baked, but they get even better after a week or more of spraying them with brandy. The trick is to have the willpower to not eat them all before then!