I love scones. Like really love scones (probably on an unhealthy emotional level, but that's not what this post is about). I also love cinnamon and apples, so I decided to bring these bad boys together into something delicious.
As with most of my recipes, I've got some 'splaining to do first about some of the ingredients, techniques, and tools I use.
Apples
This recipe calls for dried apples instead of fresh.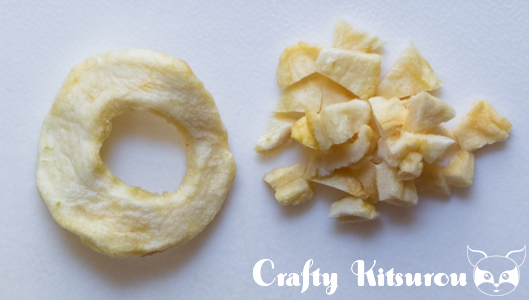 The apples are finely chopped and soaked in apple cider and cinnamon liquor overnight, resulting in extra cinnamon flavor. How finely chopped? However fine you want. They will increase in size due to the soaking, so chop them smaller than you want the final result to be.
Cinnamon Flavored Liquor
You can make your own cinnamon liquor by infusing cinnamon sticks in vodka for 1-2 weeks. Refer to my "Make Your Own Bitters, Extracts, and Flavored Liquors" post for more information.
If you don't want to make your own, there are several options for cinnamon flavored liquor at your local liquor store.
Another option is to use cinnamon extract. If you use cinnamon extract, use only 1 Tablespoon of extract and use 1 Tablespoon + 1 teaspoon of cider.
Butter
You don't want the butter to be completely mixed with the batter. Instead, you want it to remain in small pieces resembling crumbs. The easiest way to achieve this is to grate the butter with a cheese grater. You want the butter cold before you start grating, straight from the fridge is fine. You can also grate frozen butter. After grating, put the butter in the freezer until needed.
Nutmeg
I always grate my nutmeg with a Microplane grater right before use. This results in a much stronger flavor. However, if you don't have a grater, using pre-ground nutmeg will work just fine. If you want to get a grater, try the Microplane Classic Spice Grater.
Digital Scale
Sometimes, I prefer to weigh certain ingredients for recipes. This gives you more consistent results. For example, when you measure flour using a measuring cup, you can get a different amount every time based on how packed the flour is.
You can also weigh the scones before baking to make sure they're all the same size. Not absolutely necessary, but why not?
When buying a scale, make sure it can measure grams, ounces, pounds, and milliliters. You also want to be able to reset the scale to zero, sometimes called a tare function. This will let you put a bowl on the scale, reset it to zero, so you can measure just the ingredients added to the bowl. In other words, a scale like this one.
Other Scone related info
Cut the scones into 8 triangular pizza like shapes. Each one will weigh around 72 grams.
Here's how the finished scones look!
Recipe
Apple Cinnamon Scones with Cinnamon Nutmeg Icing
Makes approx. 8 scones.
Ingredients
Apples
60 grams (1 cup) dried apples, chopped fine
2 Tablespoons cinnamon flavored liquor
2 teaspoons apple cider or unfiltered apple juice
1 ½ teaspoons cinnamon
Batter
½ stick (4 Tablespoons) salted butter, grated and chilled
250 grams (2 cups) all-purpose flour
35 grams (2 Tablespoons + 2 teaspoons) sugar
3 teaspoons baking powder
¼ teaspoon kosher salt
2 eggs
2 Tablespoons apple cider or unfiltered apple juice
approx. 3 Tablespoons milk
Icing
4 Tablespoons powdered sugar
¾ teaspoon cinnamon
½ teaspoon ground or grated nutmeg
small amount of apple cider or unfiltered apple juice
DIRECTIONS
Day 1
Finely chop the dried apples.
In an airtight container, combine the apple pieces, 2 Tablespoons cinnamon flavored liquor, and 2 teaspoons of apple cider or unfiltered apple juice. Allow apples to macerate (soak) overnight.
Day 2
Scones
Adjust oven rack to middle position, and pre-heat oven to 350˚F. Line a large cookie sheet with parchment paper.
Grate cold or frozen butter with a cheese grater. Put butter in freezer until ready to use. (You could cut into small cubes instead, but grating gives better results)
Stir the apple mixture, and add 1½ teaspoons of cinnamon. Stir until apples are evenly coated.
 In a large bowl, sift together the flour, sugar, baking powder, and kosher salt.
Add in the butter and apples. In a standing mixer using the flat beater, beat mixture on low until it resembles coarse crumbs.
Add the eggs and mix on low for 10 seconds.
With mixer running on low, Add 2 Tablespoons of apple cider or unfiltered apple juice. Then slowly add the milk a small amount at a time until dough starts to set up. You may not need all 3 Tablespoons of milk. There will be dry crumbs at the bottom of bowl, you don't want the dough too sticky. Do not over mix.
On a floured surface, knead dough a few times until all dry crumbs have been mixed in. Do not over knead, this will result in tough scones.
Roll dough so it is around ½″ thick. (You do not have to use a rolling pin, you can just use your hands to flatten).
Use a butter knife to cut out dough into 8 triangles (think pizza slice shaped). Each scone will weigh approx. 72 grams (See how useful scales are?). Place scones 1½″ apart on cookie sheet.
Place cookie sheet in oven. Total baking time will be 18-20 minutes. Halfway through baking (9 minutes), rotate the cookie sheet 180˚. When done, the scones will be very lightly browned on top.
Allow to cool to room temperature. Once scones are completely cooled, make the icing and drizzle it on top.
Icing
Mix together powdered sugar, cinnamon, and nutmeg.
Add a tiny amount of cider (a few drops at a time), stir thoroughly, and repeat until it is just thin enough to drizzle. You will be surprised just how little liquid you need.
Using a spoon, drizzle icing on scones. (Make sure scones are completely cooled, or the icing will melt and run off the scones.)
Allow icing to set up before eating. (Or not, it will taste fine, just be extra messy to eat!)
~ ~~*~~ ~
Scones are best the same day, but here are some tips when you can't eat eight in one sitting:
Wait a couple hours before packing up scones. If you put the scones in a container too soon, the moisture from the scones will condensate in your container and make the outside of the scones too soft (I prefer scones to be flaky crisp on the outside). After 24 hours, make sure to store them in the fridge.
Reheat scones in a toaster oven. No matter how you pack them up, they will soften by the next day. Also, if you keep them in the fridge, they will soften further.
Freeze scones to eat at a later date. For best results, freeze them right away, don't wait until they've sat in the fridge for days and started to get stale. I decide how many I think I will eat over the next couple of days, and immediately freeze the rest. I just toss them in a gallon size freezer bag. Defrost in the microwave for 15-30 sec, then pop them in the toaster oven.
SaveSave
SaveSave